I found this recipe on Pinterest, comes from Hint of Honey ...it is wonderful. I have been baking it often, I just use Gold Medal Bread Baking Flour. Having rosemary to snip is wonderful and a blessing. I love rosemary. Nothing fancy...After the first raising,I just put the punched down dough on a cookie sheet with aluminum foil around it, sprinkled with cornmeal...no egg wash, just use rosemary salt (ground rosemary and kosher salt) sprinkled on the top...it just makes one loaf, so works great for us....
Rosemary Olive Oil Bread
INGREDIENTS
1 cup warm water (100-110 F)
1 Tbsp. organic cane sugar
2 tsp. active dry yeast
1 tsp. salt
2 Tbsp. fresh rosemary, chopped (or 2 tsp. dried)
1/4 tsp. Italian seasoning (or pinch of each ground garlic, dried oregano, and dried basil)
1/4 tsp. freshly ground black pepper
2 Tbsp. extra virgin olive oil
1 1/2 cups white whole wheat flour
1/2 cup bread flour + extra for kneading
1 egg, whisked + 1 Tbsp. water, for egg wash
dried rosemary, for sprinkling
DIRECTIONS
1. In a large bowl, combine the warm water, sugar, and yeast. Let sit 10 minutes to proof.
2. Stir in the salt, rosemary, seasonings, olive oil, and whole wheat flour. Add the bread flour and stir until the dough forms a ball. Knead on a lightly floured surface for about 5 minutes, adding more flour as necessary to prevent sticking, until smooth.
3. Place the dough in a lightly greased bowl; cover; and let rise until doubled in size, about1 hour.
4. Punch down the dough and form it into a round loaf. Place it on a cornmeal dusted pizza peel or parchment paper; cover; and let rise until doubled in size, about 45 minutes.
5. Meanwhile, preheat oven (and pizza stone) to 400 F. Once the dough has risen, gently brush the top with egg wash and sprinkle with dried rosemary.
6. Bake on preheated stone for 20-25 minutes until the top is golden brown and sounds hollow when tapped.
Makes 1 round loaf.
I found two more recipes, and today, I made this one...this is beautiful bread. I do all mine by hand, I do not use a mixer. You do not need bread pans, just let it rise in a big bowl, then make into two loaves of bread on a big cookie sheet. Having my own rosemary makes it even better. It is one of my favorite herbs....
Rosemary Peasant Bread
1 packet dry yeast (or 2 1/2 tsp)
2 c. warm water
1 T. sugar
2 tsp salt
4 c. flour
1-2 tsp. fresh Rosemary plus more for topping
Olive Oil, Corn meal, Melted butter and salt
Dissolve yeast in the warm water and sugar. Add flour, salt, and 1-2 tsp Rosemary and stir until blended, do not Knead!! Cover and let rise for 1 hour or until double in size. I keep it in the mixer bowl and cover with a moist cloth to raise.
I put my bread in my oven to raise, I turn on the oven light...works wonderful..keeps it warm.
Remove dough. It will be sticky. I like to put shortening or oil on my hands for taking out the dough and shaping it. I think it works better than flour hands. Place it in 2 rounds on a cookie sheet lightly coated with Pam and sprinkled with cornmeal. Let it rise another hour.
Brush each round with melted butter and lightly sprinkle with more Rosemary and Kosher salt. Bake @ 425 for 10 minutes, then reduce temp to 375 for 15 minutes more.
Cool slightly, then cut into nice size bits or rip it apart and dip in a bowl of olive oil and balsamic vinegar. This bread can't be beat! It is soooo delicious and a really easy bread recipe. If you've never made bread before, Rosemary Bread is a great one to start with.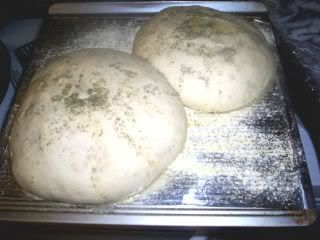 Rosemary Peasant Bread rising....
Rosemary Peasant Bread baked and ready to eat...YUMMY !