We have seriously been considering buying and raising quail...would have meat and eggs, of course, I could not make any pets...would be WHO I was eating, and that would never do...that is why I had to give up the rabbits...One of our friends raises quail, so he invited us out to his farm to see his set up...the birds were so friendly, you could pick them up. He said they hatch out in 14 day...and lay eggs every place. I fixed us breakfast one morning with the gift of eggs that he gave us..I could not tell any difference in taste..Now size is another matter, I fixed us five apiece...iddy biddy eggs with iddy biddy yolks..had to laugh..thinking to myself, I need an iddy biddy egg turner...but we managed to have sausage, eggs,and toast. We decided to pickle the rest of the batch today...so funny...I learned I needed longer fingernails to lift off the tiny pieces of shell and membrane...Benny ate part of them, he is all thumbs, but we had a great adventure anyway.....
From the gift of the quail eggs.......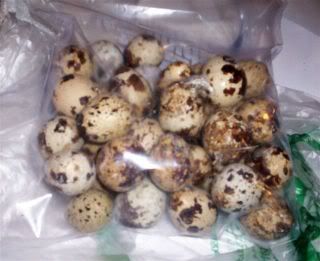 Trying to peel those little buggers....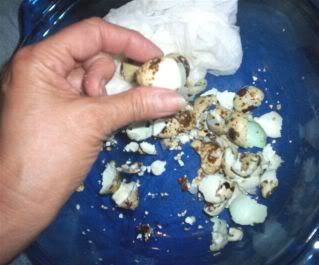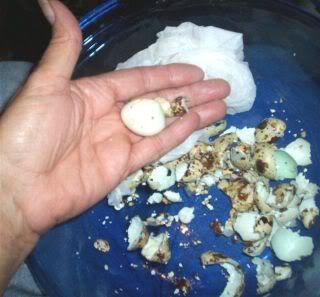 To getting the job done....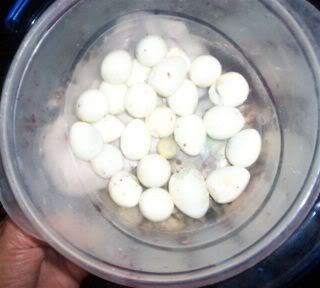 And finally pickling them...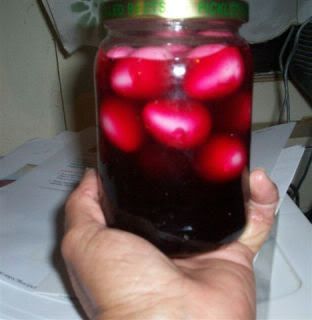 The reason they are a beautiful reddish pink color, is because I used part of the juice from the pickled beets I took to church dinner today..I always remember my Granny and to waste not, want not...so everything is used around here. I sometimes just make the solution clear with pickling spices..you will find the recipe in my old posts. I know we will enjoy eating them...I almost took a jar of pickled chicken eggs to the dinner, but Benny asked me to save them for him.....he loves them....And before I forget, our friend told us it takes 10 eggs to make a chicken egg.... Pickled Eggs 1 dozen hard boiled eggs Mix and bring to a boil, simmer for ten minutes: 2 cups vinegar 1 cup sugar 1/2 cup water 2 TBSP Yellow Mustard 1 TBSP Salt 1 TBSP Celery Seed 1 TBSP Mustard Seed 6 whole cloves Cool. Pour over the eggs. You can also add slices of onions from two onions if you wish. Cover and refrigerate overnight. These are soooooo good. I plan to add some hot pepper flakes to the next batch as we like hot things. Use a GLASS Quart Jar…..