Fall months means lots of canning and dehydrating around here. Praise the Lord for generous friends who share as well. I had a call a couple weeks ago to "come get these pears". There were at least four bushels of them. I gladly went and got them, and am doing the last batch today. I mostly make Pear Honey, Benny's favorite. It is just pears cooked down with sugar until thick, then add a can of drained crushed Pineapple and continue to cook down till ready to go on a biscuit...LOL...nice and thick. Yesterday, I added marischino cherries and left off the pineapple, and this morning I plan to make Pear Compote...Pears, Marischino cherries, some orange juice from one orange, and the orange zest. I have been making labels for the jars...I am not that creative, but this is so easy...clip art, then cover front and back with clear packing tape, draw on my circles for wide mouth or regular jars, and cut them out, place on the top of the band and screw down the ring...I have been doing all my jars that way this year, lots of beautiful designs, and they are really cute.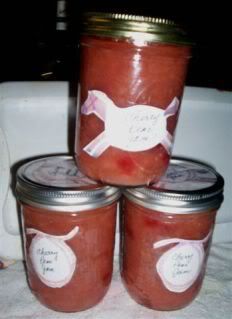 This is how the labels look when I am working on them....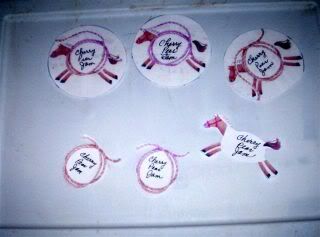 This set is from Debbie Mumm's Little Cowboy which is quickly becoming one of my favorite clipart sets....
Still have lots of apples to dehydrate. One of my neighbors has a wonderful apple tree. She allows me to have all the apples that fall on the ground. I have made applesauce, applebutter, and now am dehydrating them. My old dehydrator gave up the ghost, I cannot complain, it lasted me over thirty years. I bought a new one, and it is on the porch, ready to be opened and put to work.
My sister-in-law came to visit last week...she fell in love with the dehyrdated tomatoes, and she loved the apples, told me she was going home and order a dehydrator for herself.