This is why I love my old recipe....my bread comes out every time..you still keep your sourdough bubbling away, but you always add a fresh package of yeast to your flour mixture you are working with for the bread...
Bread rising in the pan...I put mine in the oven with the light on ...makes a perfect, warm environment for it to raise...I also like to put a piece of parchment paper in the bottom of my pans...bread and rolls come out easier...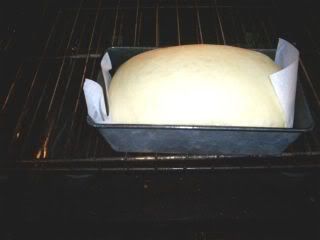 My friend Terri and her hubby have a hard time with pecans....so these are made just for them...no nuts....LOL
Ready to be taken out and the oven turned onto 350 degrees....ready to be baked...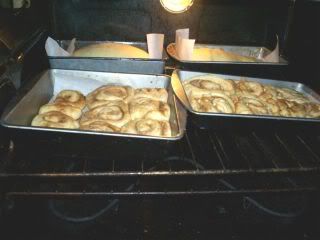 And the finished product.....Yummy bread and rolls...my cinnamon rolls are filled with Pecans...One loaf of bread is plain, the other is cinnamon/sugar swirled inside for breakast toast or with hot tea...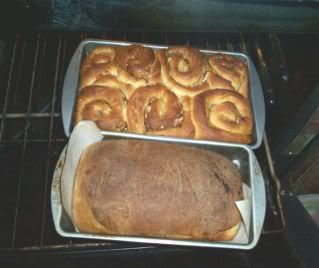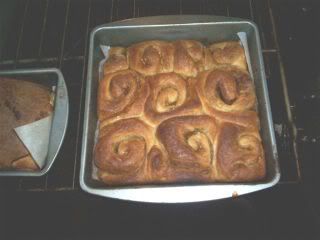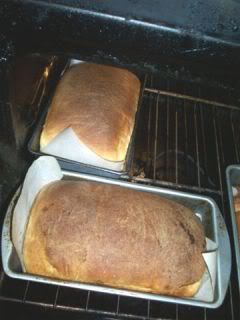 SOURDOUGH STARTER
1 1/2 cups flour
1 1/2 cups water
1 cup sugar
1/2 cup Instant Potato Flakes
Stir all in a quart jar, cover and let ferment out of the refrigerator at least 48 hours. Refrigerate. Night before baking, take it out of the refrigerator. Take 1 cup of above starter and put into a clean jar, add the following to it:
1 cup flour
1 cup water
1/4 cup Instant Potato Flakes
This is feeding the starter and will be for your next batch. I leave it out all day and refrigerate it that evening.
Put the remainder of your original starter into a large bowl and add:
3 cups water
1 cup oil (I use Canola)
3/4 cup sugar (I use only 1/2 as I don't like my bread sweet)
1 package dry yeast, dissolved in 1/2 cup warm water (I let it foam up before I put it in the batter, make sure it is good.)
4 teaspoons salt
9 cups flour (You may need a little more, make a stiff dough)
Pour onto a floured board and knead well. Put into a greased bowl and cover. Let rise until double in bulk. Knead lightly and make into 4 loaves. Put into greased loaf pans, cover with a dish towel, and let rise until double. (I put mine in the oven and close the door, the pilot light keeps it just right to rise high)
Bake at 350 degrees for 30-40 minutes. Cool on rack, brush the top with butter, and remove from the pans.
To give someone a starter, feed, let out for 8 hours. Give them 1 cup, use 1 cup starter and keep 1 cup in the refrigerator. Then half the recipe and make 2 loaves of bread.
This also makes great Cinnamon Rolls. You cannot fail with this recipe, as each time you use the fresh packet of yeast. It is a very good recipe. Happy Baking.
For fluffy pancakes, add 1/4 cup of starter to your basic pancake mix. They rise so pretty and are so good.